Introducing Allsee COVID-19 Digital Signage Solutions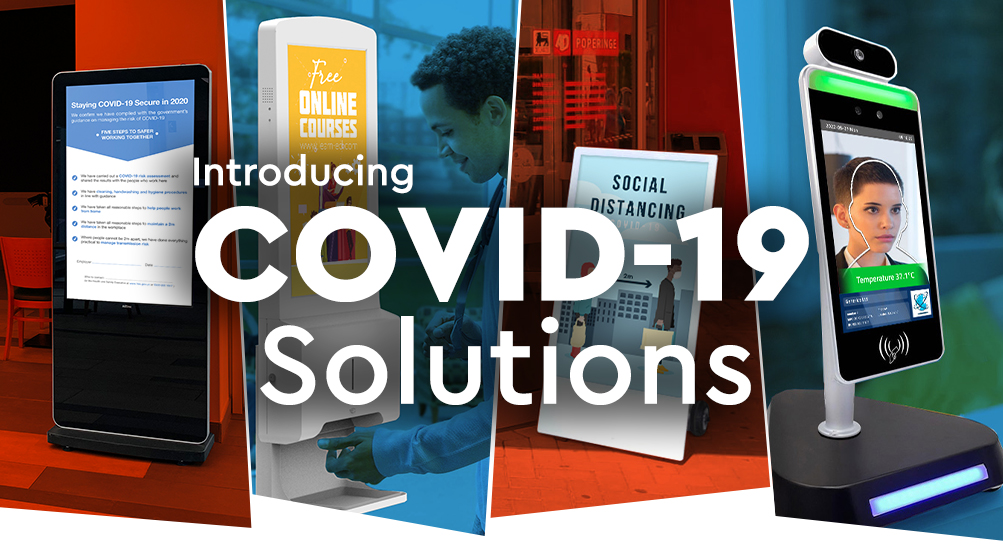 Introducing Allsee COVID-19 Digital Signage Solutions
To help customers in every industry sector combat COVID-19, we have created a range of specifically targeted solutions. To explicitly tackle new issues faced by end users, which have been brought to our attention by our partners, we have recently developed two brand-new ranges. On top of this, we have also outlined some new uses for some of our existing products. Together, these products make up our COVID-19 range.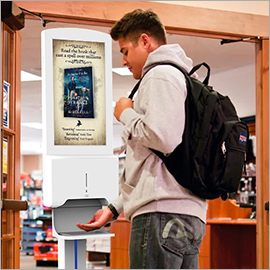 Combine Hand Sanitising with Digital Signage – Right now personal hygiene is key and where hand washing facilities are not available these displays are ideal. They combine a hand sanitising station with a versatile Digital Signage solution which can be updated instantly from our online portal or using a USB stick.
Contactless Solution – As well as having a contactless automatic hand sanitising station these displays come with a network upgrade and 1 year free subscription as standard so can be updated from our online CMS portal. They feature no external buttons or controls and have an automated on/off power timer to minimise contact following installation.
Safety First – As they are made from a robust steel enclosure they are ideal for any public location. The sanitiser tank has a capacity of 700ml, as do most standard sanitising stations on the market, to maximise safety when using high alcohol hand sanitiser (as advised by the World Health Organisation). The sanitiser tank is also completely isolated from the internal electronic components for the same safety reasons.
3 Year Manufacturer's Warranty – Just like with all of our other solutions; we offer a full commercial 3 year manufacturer's warranty and free lifetime technical support, giving you complete piece of mind.
24/7 Usage – This is a true commercial grade solution. Built using a commercial grade LCD panel and components it is designed to be in constant use, which is essential for some locations.
Optional Stand Available – You can use the free lockable wall mount that is included or utilise the optional stylish floor stand, for easy portability. The modern stand also features an illuminated blue LED strip.
Possible Locations – These displays really can be used in any location where there is no soap running water nearby. Popular environments include retail spaces, gyms, offices, schools, warehouses and hospitals.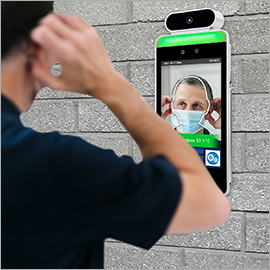 Automated Contactless Temperature Checking – Using a Melexis dual-chip system, along with a cooling fan, the thermal imaging module measures the ambient temperature as well as the user's body temperature to maximise accuracy. The full sensor temperature range is -40°C to 85°C with an accuracy of ±0.3°C. The automated nature of this system not only efficiently reduces manual labour, but also means it is completely contactless, which is of paramount importance in today's world.
Mask Detection System – As well as reading body temperature, the system can also check if the user is wearing a mask if this is an entry requirement to your building. This feature can also be disabled if not required.
Fever Alarm – When a user's temperature reading exceeds a stipulated temperature, a visual and audio alarm activate to alert the user that they have a fever. This feature can also be disabled if not required.
Synchronise with Existing Systems – Using the connection interface, this solution can be integrated with existing door or ticketing systems. Using the software included, you can stipulate entry conditions such as an acceptable temperature range, mask checking and specific user entry or restriction.
Software Included – The software used to set the entry conditions is included at no extra cost and can be easily installed on your own PC or server to maximise security. Adjust acceptable temperature range, enable or disable mask detection and fever alarm, and control the facial recognition system when being used as a check in/out solution.
Optional Automatic Hand Sanitiser – If you are utilising the floor stand, you can also add on an optional hand sanitiser dispenser to provide an extra level of safety.
High Security Facial Recognition –With 99.7% identification accuracy, this solution can also be used as a check in/out system for offices, warehouses and other secure locations. You can even create a whitelist and blacklist to control and restrict access, as well as recording all building entries. Adjust the identification security levels from using the photo on an ID card to high level military standard using a 3D face scan and body temperature check.
Mounting Options – As standard this solution comes with an adjustable desk mounted pole. Optional mounting options include: a flush fit or adjustable wall mount, a desk stand, or a floor stand. All additional stand options have a modern integrated blue LED light strip.
Possible Locations – These displays are designed for locations where any kind of temperature checking, mask detection or facial recognition is required. These environments include shops, offices, warehouses, gyms and colleges.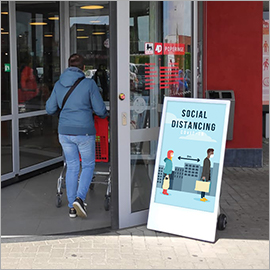 Instantly Updatable Mobile Kiosk – This solution can be easily moved by one person into any location to broadcast frequently changing government advice and guidelines. It can be updated in a matter of seconds, either via USB stick or using our online CMS portal.
IP65 Rated Weatherproof Enclosure – The enclosure has an IP65 rating which means it keeps out all airborne swarf, dust and other particles as well as being protected from any wet weather conditions; broadening the range of possible environments. It also has a tempered glass front to protect the LCD panel.
Battery Powered Display – The integrated lithium-polymer battery revolutionises the way you can use digital signage. This commercial grade slimline battery solution gives you over 14 hours running time from a single 7 hour charge.
High Brightness – The high brightness 700cd/m² LCD panel used in this display is up to three times brighter than a domestic TV making it ideal for outdoor spaces.
Secure Locking Bar – Once in position the rugged castors can be locked in place with the built in locking bar. For additional security a padlock can be used to lock this in place.

Indoor Version Available

– For locations where an outdoor A-board is not needed we also offer an indoor version in the style of a traditional sandwich board.
Possible Locations – While these displays are perfect for locations such as outside supermarkets and shops they really can be utilised in an increasingly wide range of spaces as lockdown is lifted.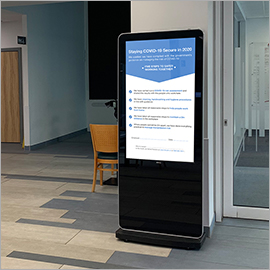 Display Compliance Information – As well as being able to display your government compliance certification you can also broadcast the necessary instructive materials, such as hand washing technique and social distancing guidelines, to your customers and staff.
Instant Updates – As government advice and guidelines continue to change on a regular basis these displays are ideal as they can be updated in a matter of seconds, either via USB stick or using our online CMS portal.
Portable Solution – These freestanding displays have integrated castors so the entire unit can be easily moved to any location as required.
Wipe Clean Front Glass – As well as providing protection from the public the tempered glass front can be easily wiped clean.
Available in Black or White – We hold UK stock of both the class piano black and modern white versions.

Wall-Mounted Version Available

– For locations where a display needs to be mounted onto a wall, rather than having a freestanding solution, we also offer a wall mounted version that resembles a giant tablet.
Possible Locations – While these displays are ideal for corporate locations to act as an internal communication tool they can be used as a digital poster in any environment where COVID-19 posters are required such as retail, hospitality, entertainment, education and healthcare environments.
For more information on these solutions, as well as the latest pricing and special offers, please click "here" or give us a call on +44 (0)121 421 4458.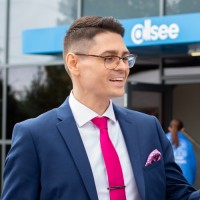 Thomas Fraser-Bacon is the Marketing Director for Allsee Technologies. His background is in Digital Signage and Product Design.