Traditional Light Pockets vs. Digital Rod Displays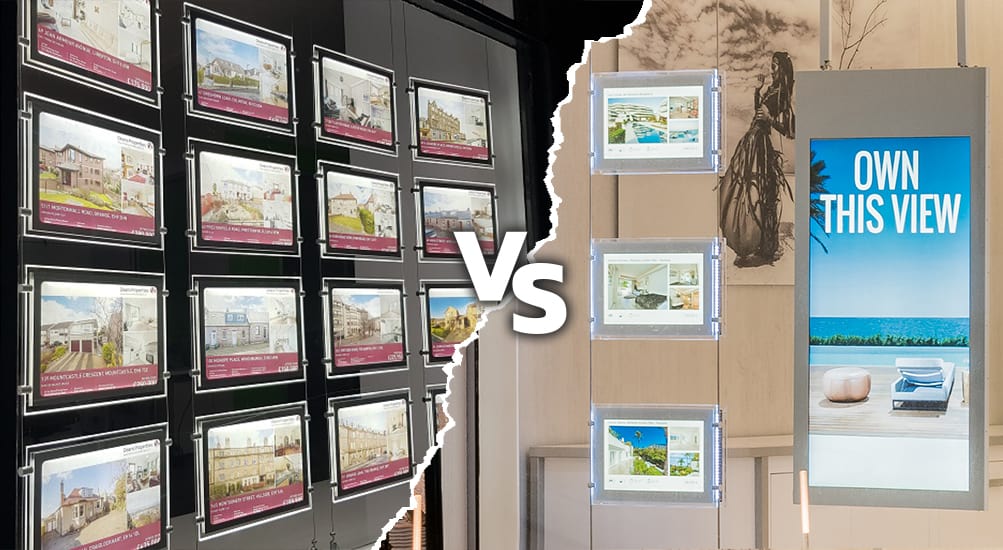 Traditional Light Pockets vs. Digital Rod Displays
Traditional LED light pockets have been around for many years and you have likely seen them displayed in the windows of places like estate agents and beauty salons. These LED light boxes are installed in shop front windows and are a great solution to attract potential customers. However, a new technology has entered the market and is taking the industry by storm! You might have heard of digital estate agent displays, or as we like to call them, Digital Rod Displays.
Now you are faced with the decision of choosing static or digital. So what are the differences between light pockets and digital displays? How can you know which one works best for you and your business? Let's explore both solutions and learn how to make the right choice!
What are the main differences?
The first thing that you need to note is that traditional LED light pockets require paper and digital displays do not, which heavily influences the cost and the return of investment (ROI). Traditional light pockets are a more cost-effective option that requires a lower initial investment, however it's important to note that although the digital version is more expensive, it offers you a much higher ROI. This is because light pockets require printing, paper and ink costs that keep adding up and in the long-run will generate massive expenses. So remember:
Traditional Light Pockets
Smaller initial investment
Smaller return of investment
Digital Rod Displays
Higher initial investment
Higher return of investment
Another thing to note is that paper and screens have a different aspect ratio. Most traditional light pockets use paper that is either A4 or A3 in size; which is not the same as a 16:9 LCD display. This is only really crucial if you have existing content in a particular aspect ratio.
It's also important for you to know that both technologies offer a seamless and clean installation with no cables showing, which gives a more professional look to the overall shopfront window design.
What are the advantages to using Digital Rod Displays?
Because this is such an innovative product, many people are still unfamiliar with the advantages that the digital option offers, so let's take a look at the main features that set them apart from traditional light pockets:
More efficient use of space
Let's say you are an estate agent and you have eight traditional light pockets. How many properties can you show? Eight. But with Digital Rod Displays you can show as many properties as you want, the possibilities are endless. There is no need to replace paper when you can simply create a presentation where the property ads keep changing on a loop.
Not only that, but with the Digital Rod Displays you can show video, which is a massive plus when attracting potential customers. In fact, research shows that 60% of marketers say that video drives more engagement and 64% of customers will reach their purchase decision after watching a video.1
Automatic updates
With traditional light pockets every time you want to promote a new product or make a change to an existing ad, you will need to print a new copy. But with Digital Rod Displays you can replace or update an ad with the simple press of a button. The flexibility of uploading what you want when you want is a massive advantage that is not only time-saving and cost-effective but also a much more sustainable option.
Did you know that in Europe alone, every 2 weeks, over six million square meters of printed poster is thrown out? 2 This is detrimental to the environment, especially because most times the ink used is not eco-friendly. With Digital Rod Displays there is no need for printing or ink, offering the ultimate sustainable effective solution.
Flexible upload methods & synchronisation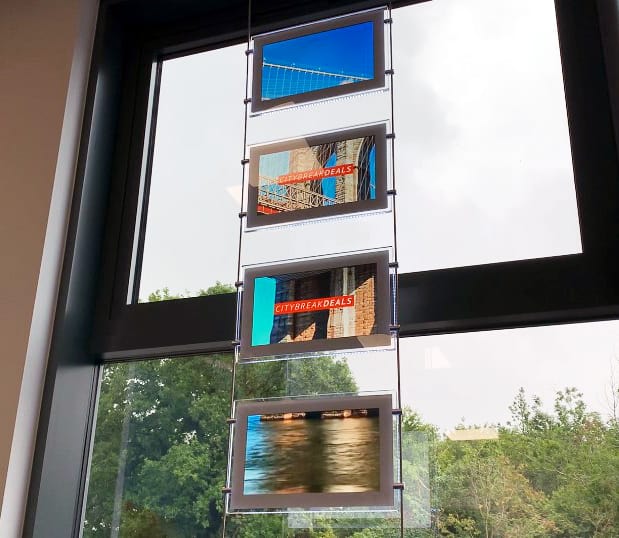 With the option to upload your content via USB plug and play, your own network or 4G, this process has never been easier! Simply generate your content, choose your uploading method, and watch the new content being displayed in a matter of seconds. Many property management platforms also have the ability to generate a live web feed so once this has been sent to the screen it will automatically update as properties are sold or become available.
Not only that, but you also have the flexibility of choosing how you want to display your content by synchronising multiple screens. Do you want to change the content displayed on all screens at the same time? Or display one video across multiple screens? It's 100% possible! You can create the ultimate dynamic content with endless possibilities to show your creativity and attract more customers.
So how do you choose?
When making a choice between traditional light pockets and Digital Rod Displays you need to plan ahead and think about your end goal. Are you looking for a cheaper option on a short term investment? Do you want a simple solution that does not offer advanced features? Then traditional light pockets are an amazing choice. Truth is, this technology has been around for a long time and it's not going anywhere anytime soon.
But if you are looking for a long term investment that in the long-run will be more cost-effective, then Digital Rod Displays is the way to go! Not only are you saving on paper, ink, and labour costs, but you are also choosing a more sustainable and future-proof solution that offers endless possibilities of dynamic and show-stopping content.
Allsee's Digital Rod Displays are truly a unique product that required extensive R&D and our goal was to create a solution that would not replace light pockets but instead would complement them and open up many more possibilities for digital signage resellers and integrators.
If you have any questions regarding our Digital Rod Displays, or would like to discuss any project, get in touch with our specialists today and we'll be thrilled to assist you.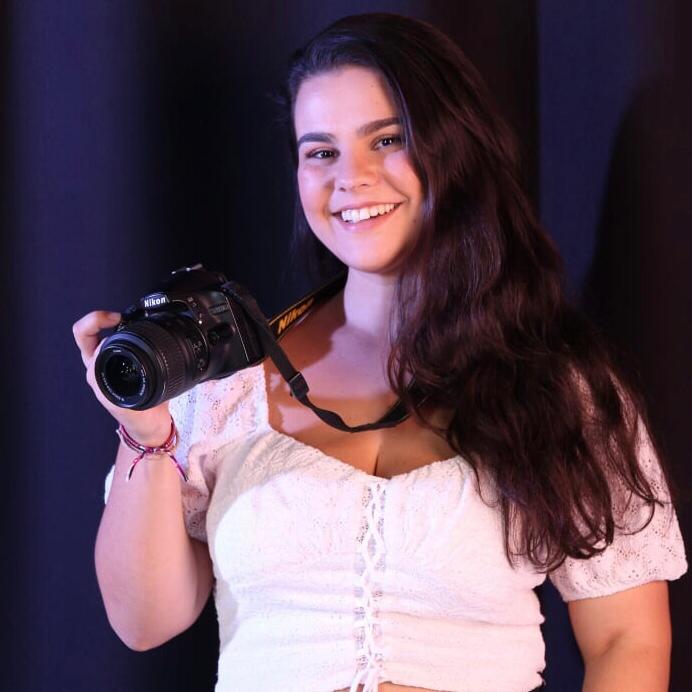 Leonor Guedes is the Digital Marketing Assistant at Allsee Technologies.