Digital Signage: The Perfect Companion for Sporting Events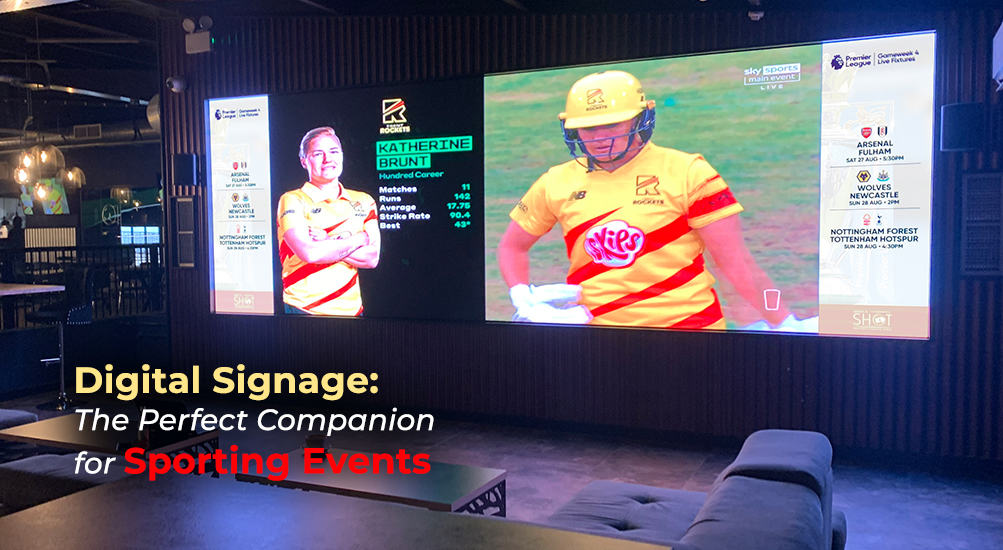 Digital Signage: The Perfect Companion for Sporting Events
Sports is one of the few things that can still bring people together regardless of language, gender or culture. From the fiercest of football derbies to incredible racing in formula one and dazzling spectacles at the Olympic games; there are countless sporting events that truly unify people from all over the world.
For those not watching at home or at the venue there are many types of different businesses that show sporting events such as pubs, bars, gyms, bookies, and private member clubs. Huge sporting events, such as the upcoming football FIFA World Cup, are sure to draw crowds so businesses like these need to be sure they are utilising digital signage to their benefit – from showing the sports to promoting their own offerings.
Showing Events Through Digital Signage
Using digital displays to show events will draw in larger crowds. No matter how large a domestic television is nowadays it is not fit for use in a commercial premise as we've talked about here. Most people venturing out from home will want a large screen so they don't miss any of the action and expect good image quality. Here are some of the screens that we would recommend for showing the big event.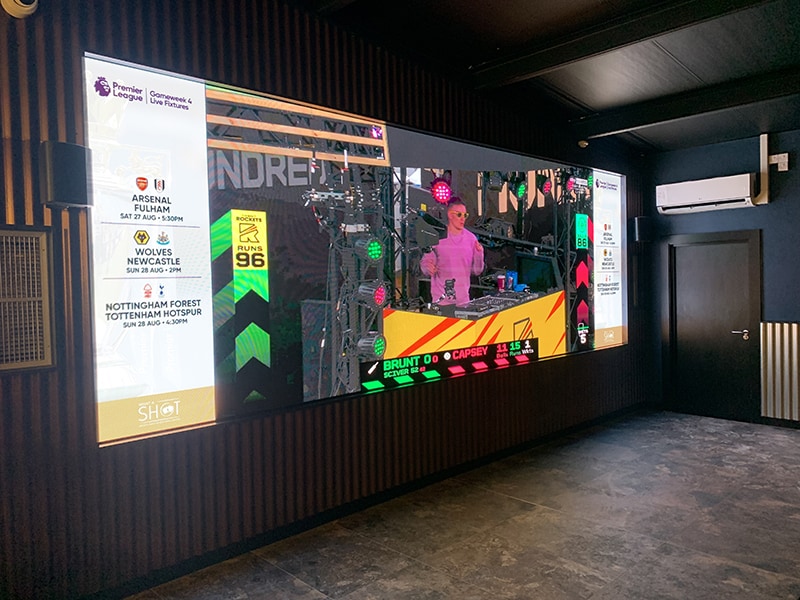 Indoor DV-LED
The DV-LED market has accelerated remarkably within the last couple of years, making large scale displays such as our Indoor DV-LED more accessible to businesses that wouldn't have been viable before. With incredibly fine pixel pitches the image quality is great whether you are sat close to the screen or at the bar. Modular in nature, these screens can be configured to fit any space as seen in the example above where one single video wall is being used to seamlessly display both the live feed and an advertising space.
Outdoor DV-LED
Like their indoor counterpart, Outdoor DV-LED is becoming a more viable option for businesses. Having the display outside allows businesses to be unrestricted when it comes to size and the weatherproof casing ensures the screen is protected even on rainy match days. The display's high brightness also guarantees the screen is visible during daylight hours even in direct sunlight.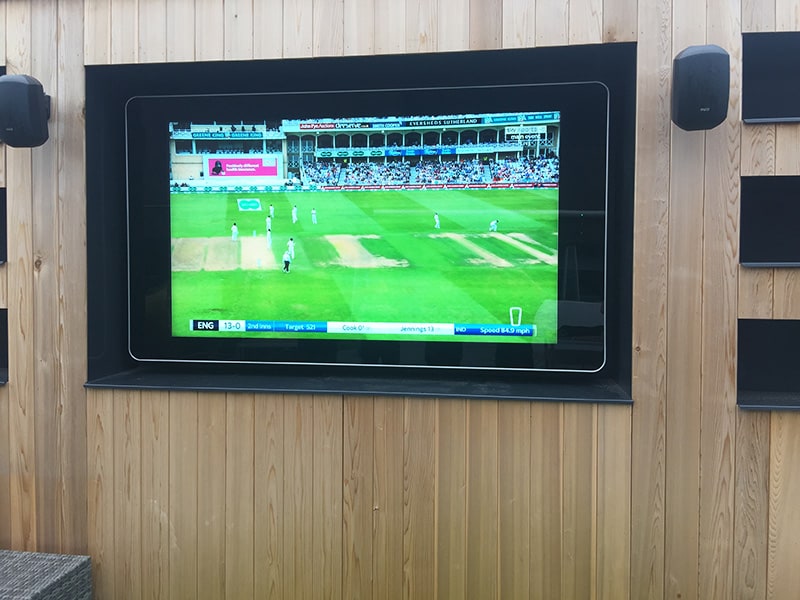 Outdoor Wall Mounted Displays
Furthermore, continuing outdoors is our range of Outdoor Advertising Displays, available in sizes 22" up to a staggering 86" model with sleek tablet styling and a vandal proof tempered glass front. These screens are perfect for businesses wanting an all-in-one display to show sport events and display promotional content.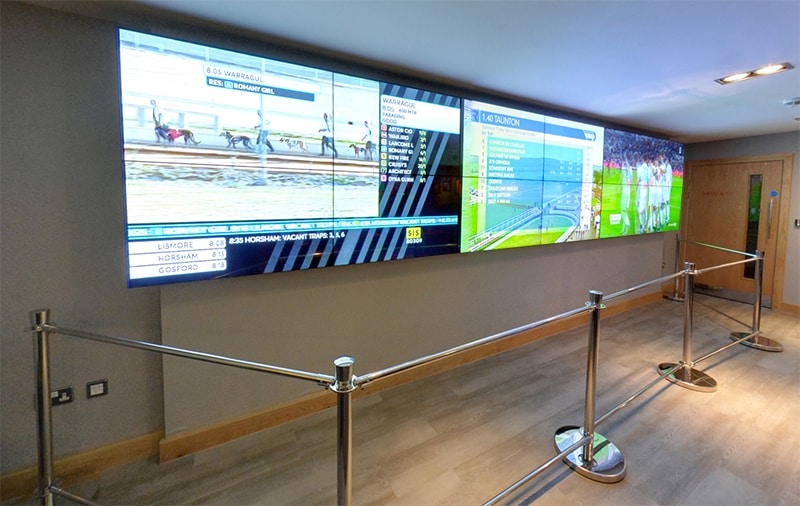 LCD Video Wall Displays
Using LCD Video Wall panels is a great cost effective way for a business to build a big display on which to show sports. With a bezel of just 3.5mm screen to screen these can appear virtually seamless to viewers, across some configurations the display can even reach 4K ultra high definition without the need for an external matrix processor.
Digital Signage to Promote
So now you have a fantastic digital display to show the event and you have fans filling your venue, now what? Here are some digital signage screens that you can use to promote your menu and services to an enthusiastic audience.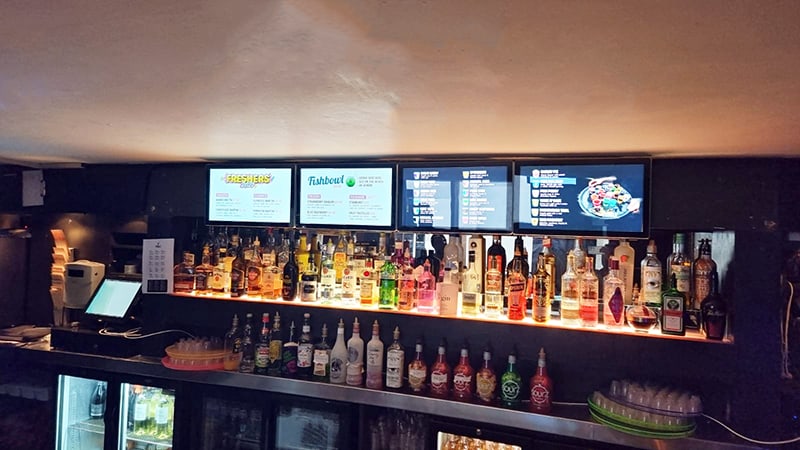 Slimline Pro Advertising Displays
If you're looking for a digital signage solution to elevate the aesthetics of your venue as well as provide an extra level of protection for your investment, our flagship range of Slimline Pro Advertising Displays are perfect. With a stunning diamond cut concave aluminium surround and tempered glass front, the giant tablet styling of the sleek enclosure oozes a premium feel for your business where you can display special offers.
Network Digital Menu Boards
The Network Digital Menu Boards are the most cost effective truly commercial grade digital signage solution available on the market. A packaged all-in-one networked solution that offers businesses the best value for money. With a narrow bezel the screens can also be mounted side by side and synced with each other with content flawlessly flowing across them for an effect sure to impress sports fans.
Outdoor Digital A-Boards
Businesses looking for new ways to attract more visitors can really take advantage of our Outdoor Digital A-Boards. These fully waterproof outdoor displays are conveniently portable so they can be moved around to high footfall areas where you can advertise what events you are showing and when. Compared to the Slimline Pro and Menu Boards that are screens advertising to customers inside the venue, the Outdoor Digital A-Boards are screens that are designed to generate more business by inviting new customers into your venue.
Be Ahead of the Game
With the upcoming FIFA World Cup being the next major sporting event to captivate the globe, now is the time businesses should be thinking about how they can use digital signage and reap the benefits it can sow.
To find out more about how Allsee can help with your sporting event projects get in touch with our industry experts today.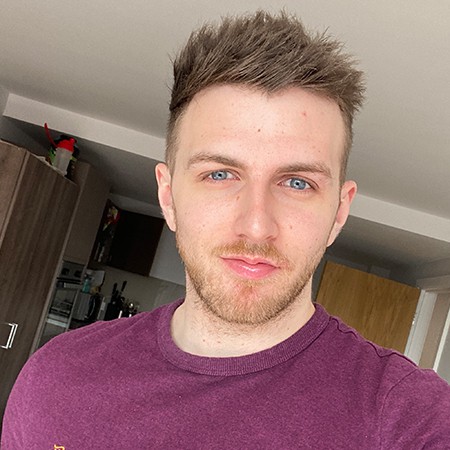 Tom Rock is a Marketing Manager for Allsee Technologies. His background is in Digital Signage and Graphic Design.