Allsee Reveals New PCAP Self Ordering Kiosk Solution
Allsee Reveals New PCAP Self Ordering Kiosk Solution
Digital Signage manufacturer Allsee Technologies has announced the expansion of its range of Touch Screen solutions with the launch of a brand new 27" PCAP Self Ordering Kiosks. This integrated solution enables businesses to meet the expectations of their customers with instant service capabilities across many different industries and uses including:
QSR Food Ordering
Click and Collect Display
Retail Kiosk
Ticketing Kiosk
Touch screen self-service kiosks are part of the digital transformation revolution in customer service. Businesses that invest in the needs of their consumers can expect to reap the numerous rewards.
The 27" PCAP Self Ordering Kiosks has the following features;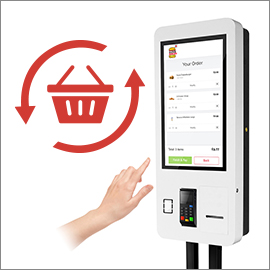 Automated Self Ordering System
The numerous benefits for self service systems are clear, from allowing staff to focus more on customer service, reducing queues and waiting times as well as improving and optimising the overall customer experience. This solution is designed for the fast food sector but can also be used in a range of retail spaces.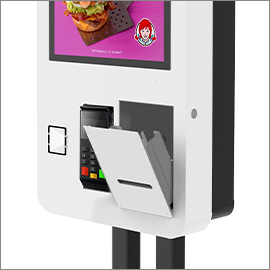 Easy Roll Replace
The till roll for the thermal printer is located in a separate compartment so that staff can quickly and conveniently replace the roll without having to open the main access door.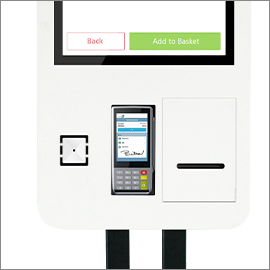 Integrated QR Code Scanner & Thermal Receipt Printer
The scanner features an LED light to improve reading ability and can be used to scan barcodes or QR codes in conjunction with special offers or to place orders. As well as printing order receipts on the standard 80mm width till roll, the inkless thermal printer can be used to print promotional vouchers. There is also space to integrate a credit card payment reader.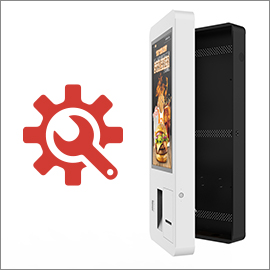 Easy Maintenance and Cleaning
Tool-free maintenance is possible via the lockable front access door, allowing store staff to swap out and replace components without having to remove from the wall. The touch screen and barcode scanner are also recessed into the enclosure for a wipe clean surface.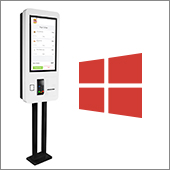 Built in Windows PC
There is a built-in Intel i3 Windows PC, which can be upgraded if necessary. If your application runs on Android or Linux these operating systems are also supported by the hardware.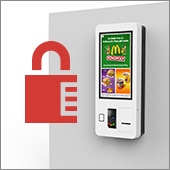 Anti-Theft Mounting Options
As standard the kiosk can be securely mounted directly to the wall from inside the lockable door – providing an anti-theft flush fit. There is also an optional floor stand available on request when wall mounting is not possible.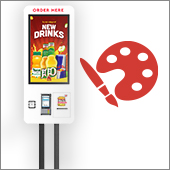 Customisable Display
Other sizes and colours are available on request. We can also design and manufacture bespoke units with an integrated camera or double-sided versions. For existing models we offer a coloured vinyl wrap service as well as custom logo and graphics.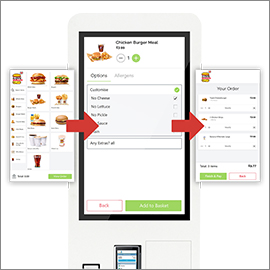 Software Packages Available
You can use your own software solutions or we can offer various bespoke packages on request.
The 27" PCAP Self Ordering Kiosks are in stock now and available for immediate dispatch. For the latest prices and special offers please click "Here" or give us a call on +44 (0)121 421 4458.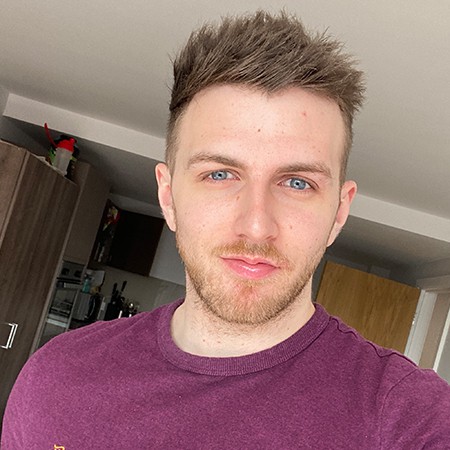 Tom Rock is a Marketing Manager for Allsee Technologies. His background is in Digital Signage and Graphic Design.