How Can Digital Signage Complement E-Commerce?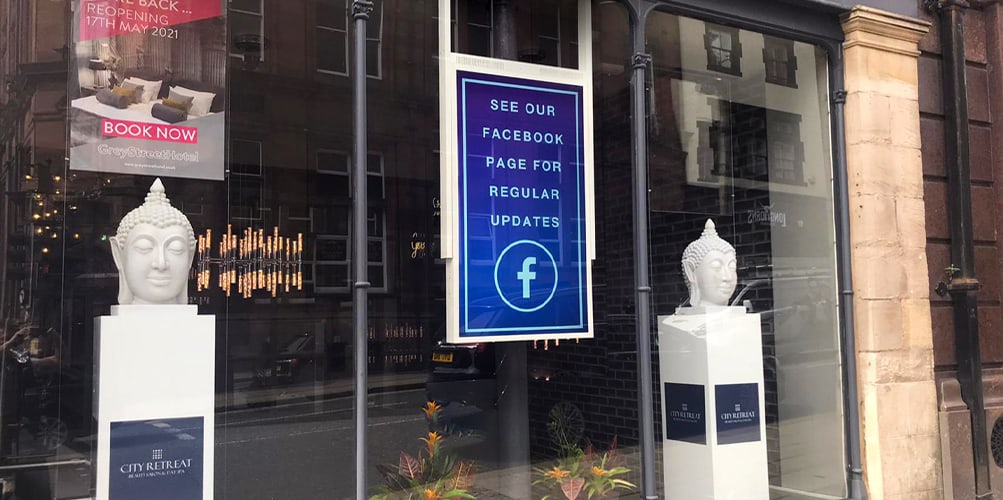 How Can Digital Signage Complement E-Commerce?
E-commerce popularity has been on the rise for the past decade and it's no surprise that the COVID-19 pandemic has escalated this trend by heavily influencing shopping trends and habits. In fact, over 61% of UK adults made most of their shopping online during lockdown1 and although physical stores are now open with no restrictions, 89% state that they will continue to make most of their shopping online2.
We've discussed how digital signage can help shops reverse the shift to e-commerce but, how can brands use digital signage to increase online traffic and make their business stand out from the competition?
Online shopping on the rise but in-store shopping here to stay
The impact the pandemic had on shopping trends forced brands to adapt and many switched their focus to developing their online presence. Nowadays you can pretty much order anything online, from groceries delivered to your door to endless products available on platforms like Amazon and ASOS.
However, even though online shopping made a mark in spending trends, many still prefer the hands-on experience in physical stores. 4 out of 5 shoppers validate their online research in-store3  and a staggering 62% of customers prefer shopping in-store because it allows them to physically touch, see and try out items4. This means that no matter how much ecommerce keeps growing, in-store experiences will always be crucial and a lot of the online traffic which brands receive originates from physical stores or digital out of home (DOOH) advertising.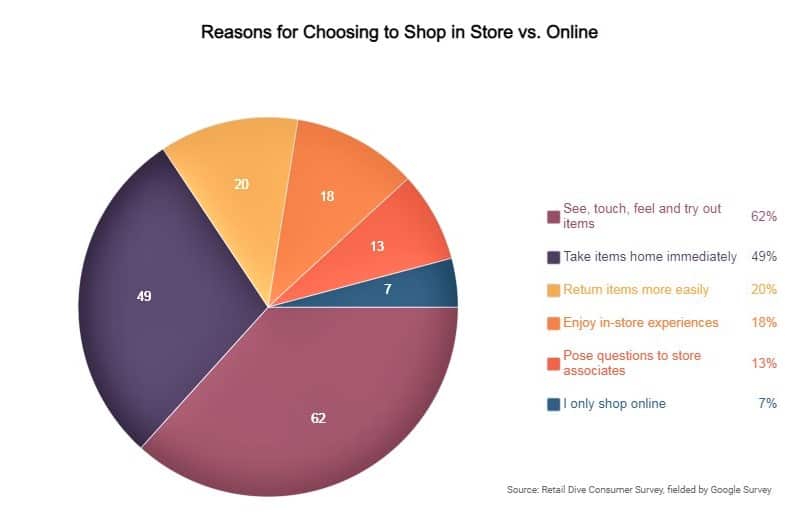 How can digital signage help?
Whether you're shopping online or in-store, your customer experience will play a huge part in how you see a brand and how loyal you are to that brand. In fact, customers are likely to spend 140% more after a positive experience5, so here's how digital signage can help you deliver great experiences for your customers and boost your online presence:
Creates unique customer experiences
With digital signage you can create a bridge between your physical and online stores, which generates a growth in sales rates. For example, a customer that is shopping in-store might see a specific product on one of the digital screens, scan a QR code to order that product online and have it delivered at home the next day.
Not only that, but waiting in line can be a deal breaker for a lot of customers and digital signage offers a distraction, giving you the opportunity to show your products in a creative way. You can also provide interactive and informative displays that will not only make the customer's experience more engaging but also a lot more relaxed.
Creating a connection between in-store and online shopping makes it easier to increase sales and drive traffic to your website, where you can further engage with your customers and build a meaningful relationship. This is why retail stores are seen as the future of ecommerce and in-stores experiences are one of the main attractions for online shoppers.
Easily shares information
By using digital signage, you can easily share additional information about your brand and increase the traffic to your online platform. You can advertise online sales, promotional codes or even the launch of a new collection. Out of home advertising reaches 98% of the UK population every week6 so can you imagine the amount of people that would see your content and potentially visit your brand's webpage?
Digital signage also allows you to showcase your social media channels and the content your brand creates, which will spike interest in consumers and increase your online presence. Use digital signage to create memorable experiences that engage with new potential consumers and then use your social media channels to nurture those customers.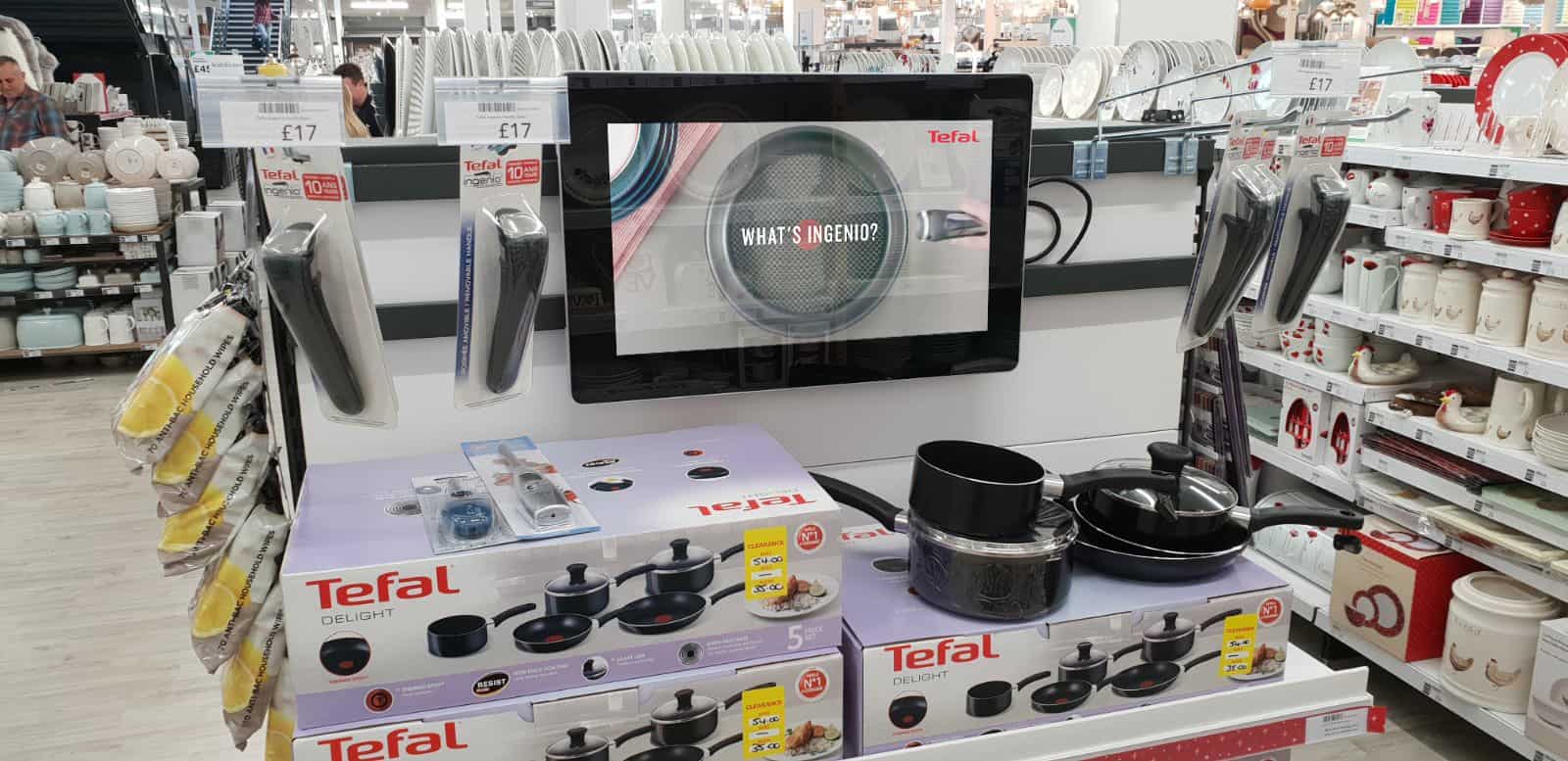 Promotes services and products
Digital signage is one of the most effective advertising tools for ecommerce brands, with 84% of UK retailers stating that digital signage creates significant brand awareness7. The amount of digital signage displays available makes consumers consciously and subconsciously engage with a company's content, which motivates impulse buying that significantly improves your company's sales prospects. Nowadays it's so easy to be walking down the street, see a video of a product you really like on a digital signage display, grab your phone, search for the product and buy it with express delivery.
You can also use digital signage to track buying preferences or spending habits and collect consumers' contact information, such as email addresses, telephone numbers or social media profiles, which will be extremely valuable for future marketing strategies.
Expands your target audience
Physical stores have specific locations and only people that live in that geographic region can have access to those products or the content that brand shares. With the geographic flexibility that comes from digital signage, you have the opportunity to connect with different consumers that either don't know your brand or simply aren't familiar with your online presence.
By displaying your digital content in multiple locations you can expose new people to your brand and increase your online traffic. On top of that, changing the content displayed has never been so easy now that we have content management systems, making digital signage the perfect budget-friendly and time-saving marketing strategy.
Summary
With so many brands focusing more on their online presence due to the pandemic and new buying trends, the online retail market has become highly competitive so it's vital to be able to stand out from the competition. Digital signage gives companies the opportunity to create memorable experiences in a unique and effective way. It allows consumers to easily interact with your content – see it, search it, buy it. It's that simple! At Allsee we offer a wide range of solutions that will help bring your in-store and online business to the next level so get in touch today and have a chat with our digital signage specialists.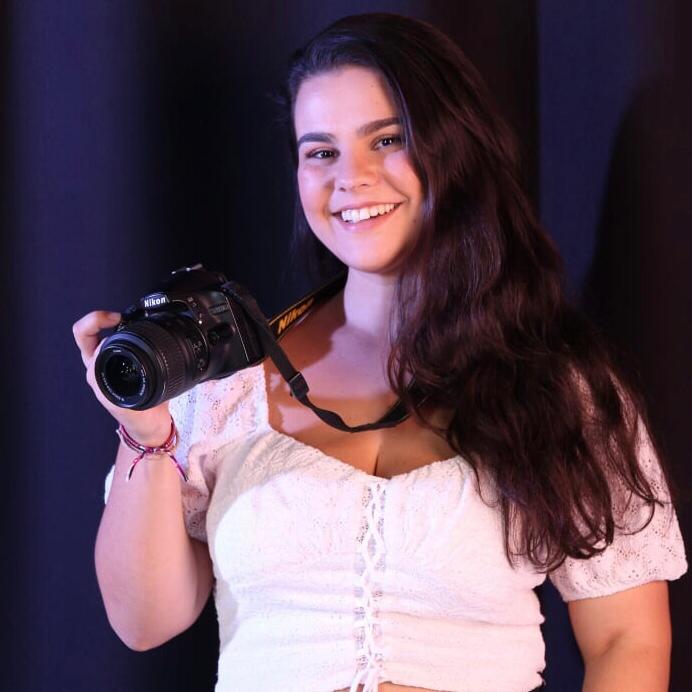 Leonor Guedes is the Digital Marketing Assistant at Allsee Technologies.