Boost Your Business with Allsee: Advantages of Partnering With a Digital Signage Manufacturer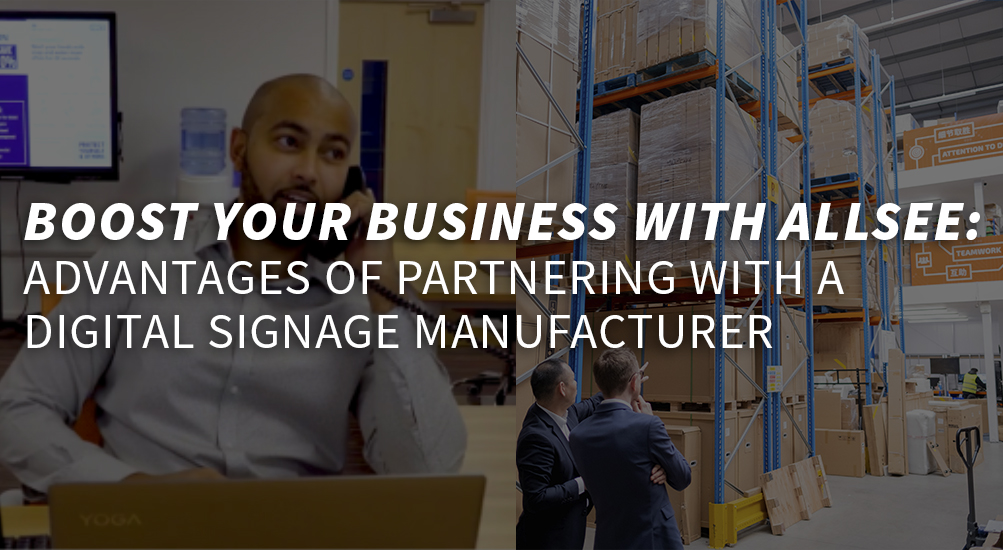 Boost Your Business with Allsee: Advantages of Partnering With a Digital Signage Manufacturer
Since being established in 2007, Allsee have always done things a little differently to everyone else. Unlike household name brands that also happen to manufacture commercial digital signage displays, it has never been a focus for Allsee to develop our own brand, but rather focus on helping our partners to grow their own businesses. So, why should AV integrators and resellers partner with Allsee, rather than purchase displays from larger brands through distributors?
Working directly with Allsee
At Allsee we are heavily invested in the growth and business development of our partners, because Allsee grows through your continued success. So, focused on supporting our partners to help them to build their brand and reputation in the digital signage industry. Thanks to the expert industry knowledge from our sales team, we can offer you full training on any of our solutions or help you find ways to grow your digital signage business. Our sales team has in-depth knowledge of our portfolio of solutions as well as the digital signage industry in general. They are dedicated to helping to guide you through the purchasing process, ensuring that your clients get the best possible solution for your projects at the most accessible prices.
Whereas large distributors hold stock of a range of different brands, at Allsee we have our own UK warehouse which holds over 1,600 pallets of exclusively Allsee products. So, not only can we provide reliable and fast delivery that allows you to quickly fulfil your projects, we also hold a vast amount of stock of each range, meaning that you can very easily fulfil large-scale projects on a tight deadline.
Allsee is dedicated to supporting our partners by combining what larger manufacturers have, such as reputation and reliability, as well the dedication of smaller brands, to bring you a total complete package with the best of everything. Allsee strives to develop partnerships and develop new ones to provide you all you need in one place. Our partners also have access to the support of our marketing team, who are dedicated to helping you find ways to captivate and communicate with your customers. This includes guidance on general SEO and in-depth website audits, provision of case studies and photos from past projects in every sector, help with social media optimisation, advert design, email campaign management, mock-ups of products in-situ to ensure that you are able to secure projects, and so much more. Find out more about what our marketing support includes here.
Continuing with the dedication to support our partners, we have several showrooms designed just for you, based in Birmingham, UK and Oostende, Belgium. Our showrooms are free to use for our partners and have everything you need, including printed brochures and the chance for you get up close and personal with our current and unreleased solutions. And, don't forget that it's the perfect opportunity to show your end users the capabilities of our different solutions, which will encourage their buying decision as well open doors to cross selling other product lines.
One thing that our mission statement includes is to "provide a level of outstanding customer service to our partners". As a manufacturer, we want to provide as much confidence about our solutions as possible, and how we ensure that we're meeting this objective is through our after sales support; which includes a free lifetime technical support service. We want our partners to feel one hundred percent secure in our solutions and their digital signage journey, therefore support at any stage is just a call away for you or your clients.
Additionally, one of the benefits of working directly with Allsee is that you get to work closely with the manufacturer themselves because, at the end of the day, who knows our products better than ourselves? This in itself is a huge benefit to our partners as we can cater to the specific requirements of each of your projects and help customise our products with custom logos, vinyl wraps and other hardware modifications such as the integration of cameras, powerful PCs and speakers. Furthermore, because we import our products to the UK ourselves, we can ensure that each product undergoes a thorough quality control check to ensure that your customers only receive the highest quality products. At Allsee we are responsible for the entire manufacturing process, from the design and development to the final product, ensuring that each stage is monitored for quality control, giving you and your customers the ultimate peace of mind.
Advantages of working through a distributor
Purchasing Allsee products through one of our distribution partners has its own advantages which is the perfect addition whilst also maintaining a relationship with a manufacturer like ourselves. Each distributor will have their own key benefits which will differ from ours such as having access to more AV peripherals.
Working with a distributor means that solutions for your projects may be more accessible through potential credit agreements that can be arranged. This is a major advantage of working through a distributor as they can accommodate different solutions according to your financial resources – ultimately making it as easy as possible for you to complete projects for your clients.
Through a distributor you're also not just limited to digital signage solutions since they provide an array of AV equipment, ideal for complex projects. Thanks to their knowledge of the AV industry spanning beyond digital signage, their experts can provide you with IT equipment which a manufacturer like ourselves would need to source from a 3rd party partner. Therefore, a distributor will have complete solutions to accommodate your demands for the AV industry.
Conclusion
In addition to our commitment to customer service, we are constantly innovating and improving our products and solutions to ensure that they meet the evolving needs of our partners and industry. We are dedicated to maintaining our position as a leading digital signage manufacturer, so invest heavily in R&D so that we can regularly upgrade products and introduce new products to help our partners stand out and engage with their audiences.
In conclusion, working directly with Allsee offers a variety of benefits that go above and beyond major manufacturers resources, including access to marketing support, exceptional customer service, lifetime technical support and input on the development of innovative and high-quality products. If you're in the market for digital signage solutions, we encourage you to explore our range of commercial display solutions and see how we can help take your business to the next level.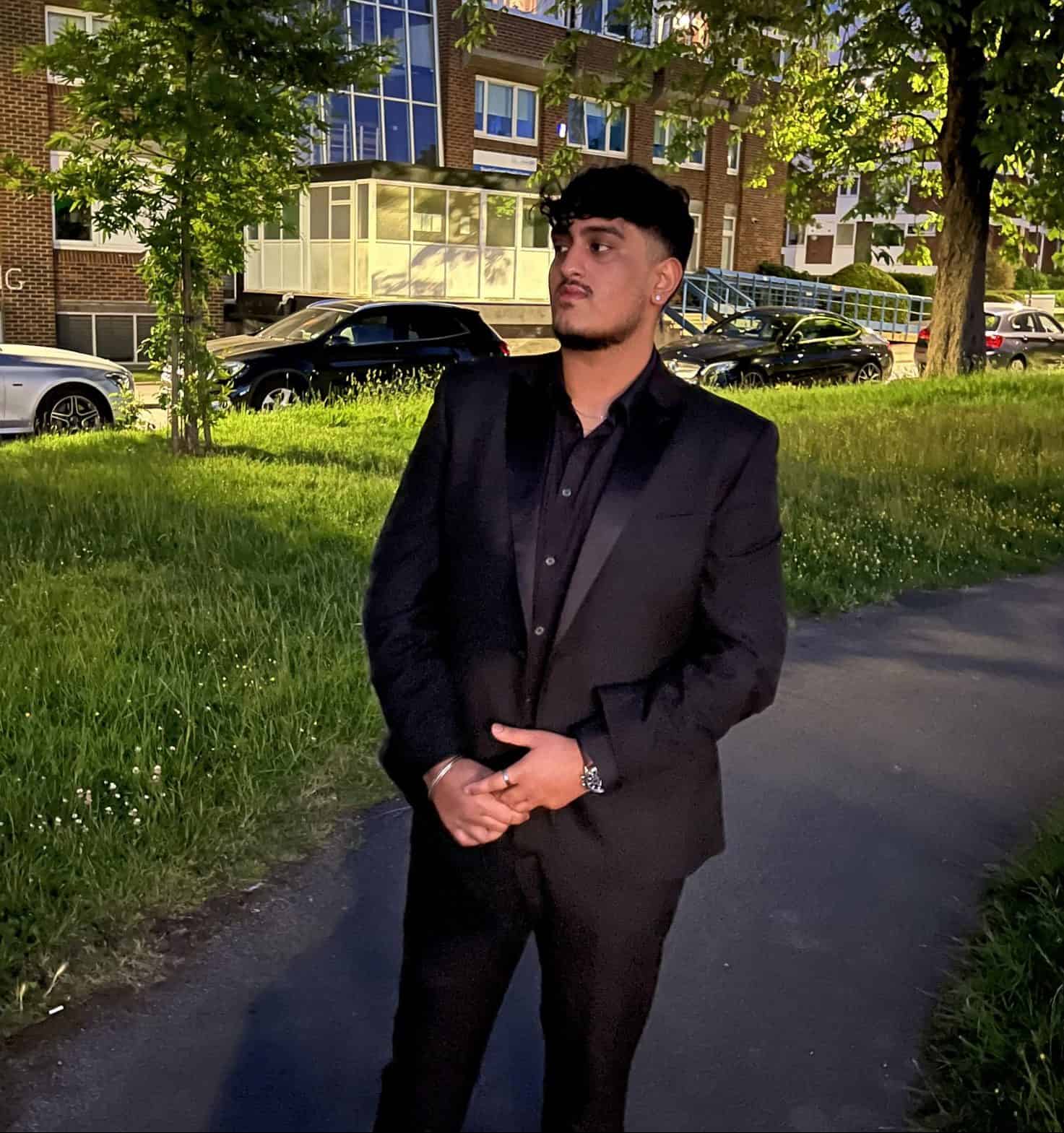 Ramanjeet Singh is the Digital Marketing Apprentice at Allsee Technologies.