Allsee Technologies Wins Best of ISE 2019 Digital Signage Award
Allsee Technologies Wins Best of ISE 2019 Digital Signage Award
We are delighted to announce that we have been presented with a Best of ISE 2019 Award by rAVe [Publications]. These awards are the AV industries only "NOT-Pay-for-Play Awards" meaning they are completely impartial and are a true reflection of the "best of the best".
The industry leading news organization rAVe state: "We sent reporters to EVERY booth/stand at ISE 2019 and we selected the TOP products in every possible product category for our 2019 Best of ISE Awards. You can't enter a product in them. And, you can't ask us to nominate you. And, you can't get an award by advertising or sponsoring us or paying for it."
We were awarded "Best Digital Signage Accessory" specifically for our innovative 15" Digital Rod Powered Displays, which we are hoping to launch by the end of summer. This award win gives us further confidence that this will be an extremely successful solution once it is officially on the market. Allsee's Senior Product Development Manager, Kevin Sun, had the following comments:
"We faced many challenges with the research and development of this unique new product which is the first of its type on the market. One of the main obstacles we faced was brightness; for this we had to develop our own 1,000cd/m2 panel to make sure the product is suitable for window displays. The innovative product is now in the final stages of development"
Allsee are thrilled to be included among other industry leaders who have won awards in other categories. We would like to thank all members of our product development team for continuing to push the envelope when it comes to Digital Signage innovation. We would also like to send out a special thank you to rAVe for recognising this unique and original Digital Signage solution.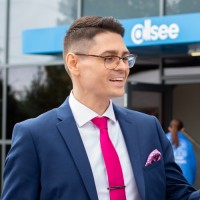 Thomas Fraser-Bacon is the Marketing Director for Allsee Technologies. His background is in Digital Signage and Product Design.