Allsee Technologies help NEC adopt digital displays for a multitude of applications.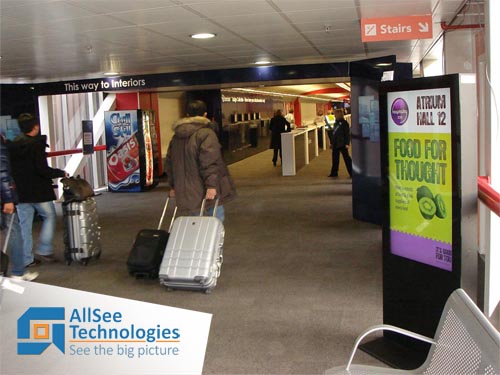 Allsee Technologies help NEC adopt digital displays for a multitude of applications.
Allsee Technologies recently provided digital signage to the largest exhibition centre in the UK – The National Exhibition Centre, Birmingham.
Visitor communication is crucial to the successful operation of the NEC. Traditionally the use of wall mounted static signage is employed; however digital advertising displays offer advantages that cannot be matched. Static signage can be limited in terms of stimulation and is so commonplace it can go unnoticed by its intended audience. Another advantage digital displays have is their ability to display an almost unlimited amount of information wherever and whenever it is required.
The relatively modest requirements of the strategically placed freestanding digital posters meant that no networking or customisation was needed. However the demand for displaying different information at different times of day was high therefore simple scheduling software was used to meet this requirement. Typical information displayed for an event includes:
• Event information
• Corporately branded information
• Messages from sponsors
• Navigational information
The first screen, the 40" Freestanding Digital Poster with integrated Literature Stand, was used near the event hall to welcome visitors and promote upcoming events. It was also used to display and dispense relevant material on upcoming events.
The second screen, the 46" Freestanding Digital Poster, was used in the atrium between the train station and the NEC. Again this welcomed visitors and highlighted upcoming events as well as helping them navigate between the 21 large halls of the NEC. Due to the extremely high footfall between the NEC and Birmingham International train station they also capitalised on the opportunity of using the digital displays for advertising.
As the opportunities and prospects for digital signage grow, so does the range of users. In the exhibition sector increasing availability and awareness of the advantages offered combined with reducing costs makes digital advertising and digital signage a first choice when trying to both inform and advertise to specific and general groups of visitors.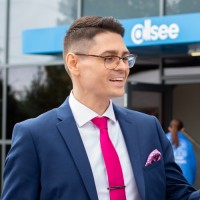 Thomas Fraser-Bacon is the Marketing Director for Allsee Technologies. His background is in Digital Signage and Product Design.