Menu Boards: Digital signage solutions vs. Static back lit boards.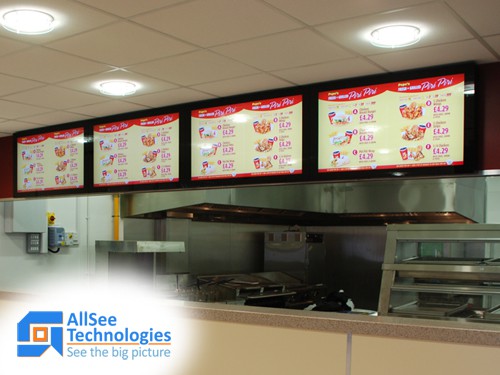 Menu Boards: Digital signage solutions vs. Static back lit boards.
In the modern digital world of screen culture that we find ourselves in it is no surprise that now even the largest Quick Service Restaurants (QSRs) are converting from static back lit to digital menu boards.
Last year Burger King deployed digital menu boards across London and Birmingham locations, resulting in a 63% rise in sales in just 12 months. Looking at this it is easy to see why this dynamic method of Point of Purchase (POP) display is becoming so popular. Offering many advantages over traditional printed menu boards, digital signage solutions are fast becoming the preferred choice for QSRs.
Primarily the animated element of motion can be capitalised upon, enticing customers and ensuring that their attention is not only captured but retained. According to WAND Digital, digital menu boards attract 10 times more customer attention than traditional static menu boards. Even when no videos are used, having multiple images in a slide show makes for a much more efficient use of space when compared to static signage. In this respect digital signage solutions can also be used as a promotional tool. Between menu board slides other slides such as advertisements for current promotions or nutritional information can be displayed.
When compared to old static light boxes, digital signage solutions are much easier to manage. Firstly there are no printing or distribution costs for the artwork; the content is simply loaded straight to the screen (via plug and play system or a network solution).
As well as being easier to update, digital signage solutions also allow you to target your content by scheduling the appropriate slides for a particular time of day. For example you can set the screen to display breakfast menus in the morning and lunch menus after 11:00 without any extra hassle. As well as being brighter than back lit menu boards, digital signage solutions are also more vibrant and have more impactful colours due to the high contrast ratio of their LCD panels. Having a better overall look and feel than static signage, digital signage solutions also have the potential to interactivity enhance the purchasing experience of the customer.
Due to the captivating and vivid nature of digital signage solutions they are able to provide a better representation of the products, influencing the customer in their POP decision. 40-70% of QSR purchases are unplanned or impulse based therefore it is crucial that they get the desired message at the POP.
With the host of benefits that digital signage solutions have over traditional static back lit menu boards and the ever reducing price of this contemporary technology it is plain to see that digital menu boards are the future.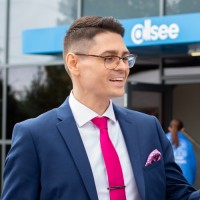 Thomas Fraser-Bacon is the Marketing Director for Allsee Technologies. His background is in Digital Signage and Product Design.