Allsee Technologies announces official opening of UK office.
Allsee Technologies announces official opening of UK office.
Aberdeen, UK, 30/01/2007 – Allsee Technologies, one of the worlds largest manufacturers of digital signage, recently announced that they will be opening a UK office and warehouse located in Aberdeen.
China's largest LCD digital signage manufacturer has decided to set up a UK team to offer customers in Europe an improved customer service as well as technical support. The new warehouse will also provide storage space for models sold within Europe, reducing lead time for European customers. Allsee Technologies, under their holding company Focus Media Holding, have chosen to open their UK headquarters in Aberdeen providing a presence for the impending boom within the digital signage industry.
"Our aim is to offer the most cost effective, comprehensive and easy to use solutions, without compromising on quality," says Baoli Zhao, Business Development Manger (EMEA) of Allsee Technologies. "Here at Allsee we aim to provide the highest quality for specifically designed commercially robust products and also an unrivalled standard of customer service and technical support."
Allsee Technologies plan to provide the UK, as well as the rest of Europe, with the highest quality of digital signage solutions as well as an incomparable customer care and technical support service.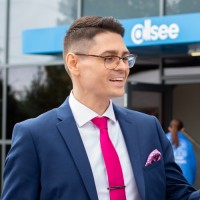 Thomas Fraser-Bacon is the Marketing Director for Allsee Technologies. His background is in Digital Signage and Product Design.