How to Create Great Digital Signage Mirror Touch Screen Content (Part 2)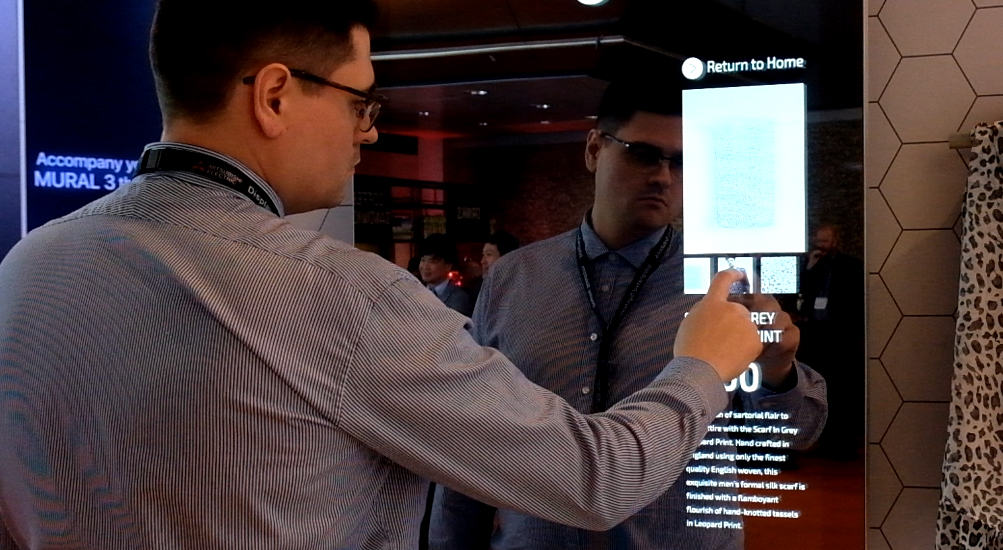 How to Create Great Digital Signage Mirror Touch Screen Content (Part 2)
This is the second part of our guide on how to create great Digital Signage Mirror Touch Screen Content. To read part 1 of this guide, please click here.
Remember It's a Mirror
Whatever content that you design for a Mirror Touch Screen, remember that at its core the display is a mirror. Some users will want to use the display for that purpose. On every single page of Mirror Touch Content that we have designed we have a button that allows the user to strip the UI right back and just display a 'full screen' mirror. Remember to have a button that allows them to bring the UI back though!
Screen Clutter
Following on from the last point, remember the screen is a mirror as well as a touch screen. All too often we see content not designed with the mirror in mind. Keep the majority of the display as a mirror. I would say at most you need to use 30% of the screens entire display for your content, the rest should be reflective.  I would also say that you need to position your content on the edges of the display. Don't just stick it in the middle. This hides the screens best feature; the mirror! Our Mirror PCAP Touch Screens with Dual OS has an extended 'tablet style' bezel. This means that while the entire display is mirrored, only the screen is actually interactive. Maximise the space by placing content right on the edge as when the entire display is on the bezel appears part of the display.
Location, Location, Location
A mirror Touch Screen, more than any other Touch Screen, needs to be tailored for its environment. Due to the mirror the product is more of a niche Digital Signage product. Retail and fashion stores will be the ideal environment for a screen like this. Some stores have started to place Mirror PCAP Touch Screens inside changing rooms so users can browse the stores range while trying on clothes in private. This area has enormous potential for a brand. Imagine being able to detect the items a user brings into a changing room and able to display information about them such as alternative colours and sizing. This technology is viable now thanks to the incredible Mirror PCAP Touch Screen. Retail and selling is not the only use for a screen like this. A salon for example could use a Mirror Touch Screen to display a gallery of different hairstyles for inspiration. Other public locations where mirrors are predominantly used, such as gyms and dance studios, are also ideal spots for this product.
Mirror Touch Screens have massive potential across a variety of applications. When creating the content for the screens remember to think how and why someone is using the display and maximise on the key feature – reflection. Allow the mirror to shine and so will the whole display.