The Network Digital Signage Player is designed to wirelessly network up to 3000 digital signage displays for quick and easy updates. As the PC works as the network server, using the PPNET means there are no expensive server or subscription costs.

PPNET works with any LCD, plasma or projected display and accepts content in all major video, audio, animation and graphic formats. It also allows the delivery of fast Flash and video material, ensuring outstanding clarity on all text and graphics so that your audience can read your messages easily. Simply import your content, choose a screen layout and enter the times you want the content to appear. PPNET lets you add and update your own messaging information online at any time and can display up to the minute RSS feeds.

The Network Digital Signage Player is based on a Linux operating system which is known for its reliability and resilience against viruses.
How it works:
• Our content management software is installed on a Windows based PC or laptop which is connected to your network via either CAT 5 or WIFI.
• This PC (which can be located anywhere in the world) is used to update the content on the Network Media Player. The content is sent over the internet and then stored locally on the Media Player. Your signage network is therefore not reliant on the network connection.
• PPNET is connected to your displays via HDMI or DVI and can be connected through a splitter should you wish to display the same content on multiple screens at the same location.
• Our content management system enables you to split the screen into different zones enabling one screen to display videos, pictures and scrolling text at the same time.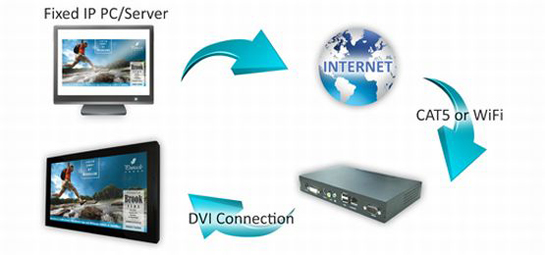 Major Benefits:
• NO expensive server, licensing or subscription costs.
• FREE full technical support.
• FREE content management software.